FREE
14

August
Come Together 2023 (Powered By TendenziA)
August 14

-

August 15
Scialaj,

Viale Lungomare




Siculiana Marina

,

92010

Italy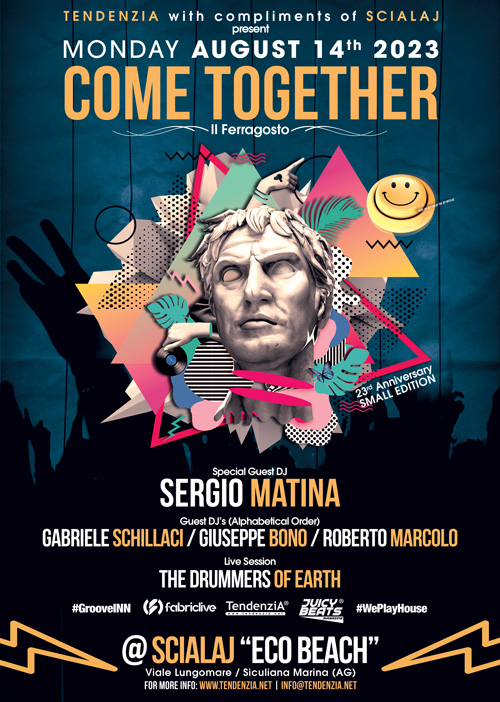 TENDENZIA WITH COMPLIMENTS OF SCIALAJ
PRESENT
TUESDAY AUGUST 14TH, 2023
COME TOGETHER (SMALL EDITION) "23RD ANNIVERSARY"
(IL FERRAGOSTO)
PUSH THE BOTTON OF THE JOY WITH US!!!
SPECIAL GUEST DJ::
SERGIO MATINA (WWW.SERGIOMATINA.COM)
(ARMADA MUSIC / PORNOSTAR RECORDS / JUICY TRAXX)
GUEST DJ'S (ALPHABETICAL ORDER):
GABRIELE SCHILLACI
GIUSEPPE BONO
ROBERTO MARCOLO
INFO PARTY:
FREE ENTRY
DOORS OPEN @ 8:00 PM
MEGA LIGHTS & SOUND SYSTEM
LASER SHOW
SPECIAL SECURITY
PHOTO SERVICE
AND MANY MORE…
DRESS CODE: SUNNY & FREAKY BEACH STYLE
COME TOGETHER… MORE THAN 23 YEARS OF STORIES, FEELINGS, MUSIC AND HAPPINES IN ONE NIGHT!!!
AMA LA MUSICA… DIVERTITI RESPONSABILMENTE!!!
PLEASE DRINK RESPONSIBLY!!!
FOLLOW US ON: WWW.FACEBOOK.COM/TENDENZIA
FOR MORE INFO: WWW.TENDENZIA.NET | INFO@TENDENZIA.NET
OFFICIAL PARTNERS:
#GROOVEINN | FABRIC LIVE | TENDENZIA | JUICE BEATS MAGAZINE | #WEPLAYHOUSE
@ SCIALAJ
VIALE LUNGOMARE | SICULIANA MARINA (AG)