22

April
#GrooveINN @ Noir Club (22 April 2016)!!!
22 April 2016

-

23 April 2016
Noir Club & Restaurant,

Via Davide Guarenti 17




Lissone

,

20851

Italy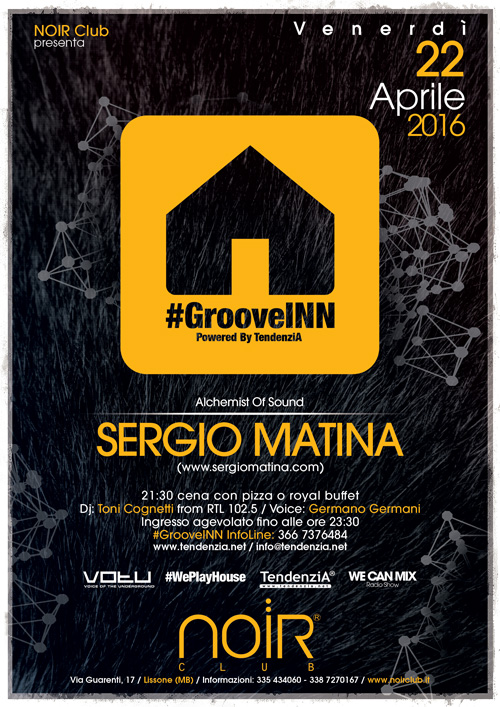 Noir Club & TendenziA
presentano
Sabato 22 Aprile 2016
Dalle ore 21:30 – Alle ore 04:00
#GrooveINN "A Brand New Clubbing Concept"
Alchemist Of Sound
SERGIO MATINA "2 Hours Exclusive DJ Set"
www.sergiomatina.com
Resident DJ
TONY COGNETTI
Special Vox
GERMANO GERMANI
#GrooveINN "A Brand New Clubbing Concept"… è la nuova One Night che rompe gli schemi della routine… proponendo un prodotto Clubbing con sonorità House, Deep House e Tech House.
La consolle sarà curata da professionisti affermati del settore che garantiranno una selezione musicale di qualità all'interno di una location che non ha bisogno di presentazioni ovvero il Noir Club di Lissone (MB).
Un aspetto curato fanno di te (Clubber) persona ben gradita… si ricorda che sarà presente una scrupolosa selezione all'ingresso al fine di assicurare un'ambiente curato e costituito da persone che amano divertisi si, ma in modo consapevole ed intelligente!!!
AMA LA MUSICA, DIVERTITI RESPOSABILMENTE!!!
E' scoppiata la #GrooveINN Mania… tutta la Brianza (e non solo) che balla si ritrova al #GrooveINN "A Brand New Clubbing Concept"!!!
#GrooveINN loves you, wants you and waits for you all!!!
Info "Costo Cena" (Lista TendenziA):
Per chi vuole si puo' anche cenare a partire dalle ore 21:30 con il Menu Pizza a 20 € compreso pizza, bibita, caffe e coperto o con la Cena A Buffet a 20 € e consumazione compresa!!!
Info "Costo Ingresso" (Lista TendenziA):
Entro le ore 23:30
Ingresso Agevolato
Dopo le 23:30
Ingresso Libero (Donna) con short drink e consumazione inclusa 12,00 €
Ingresso Libero (Uomo) con short drink e consumazione inclusa 15,00 €
Info "Costo Tavoli" (Lista TendenziA):
Tavoli Pista & Privèe: 180,00 € con 6 Pass + 1 bottiglia superalcolico o champagne e frutta
#GrooveINN Info: info@tendenzia.net
Web Sites:
www.noirclub.it | www.tendenzia.net
#GrooveINN @ Noir Club
Via Davide Guarenti, 17
Lissone (MB) | Italy